Welcome to the Pound Puppies Wiki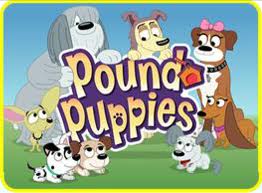 The Pound Puppies are a group of dogs who spend most of their time at Shelter 17. Together with a group of squirrels, they operate a secret and highly sophisticated underground facility beneath the pound, aimed at finding puppies or even grown up dog's owners.
They rely on their motto, "A pup for every person, and a person for every pup". Although the facility is filled with advanced equipment and is often shown bustling with activity, it consistently manages to avoid detection by the pound's human staff.
A recurring plot often involves the Pound Puppies helping dogs find loving homes and coming across various challenges as they do so. Once a dog is successfully matched with a new owner, the Pound Puppies give him/her a dog tag shaped like a dog house as a parting gift.
Who makes the best couple?
Who is your favorite pound puppies character?